Drum Tuition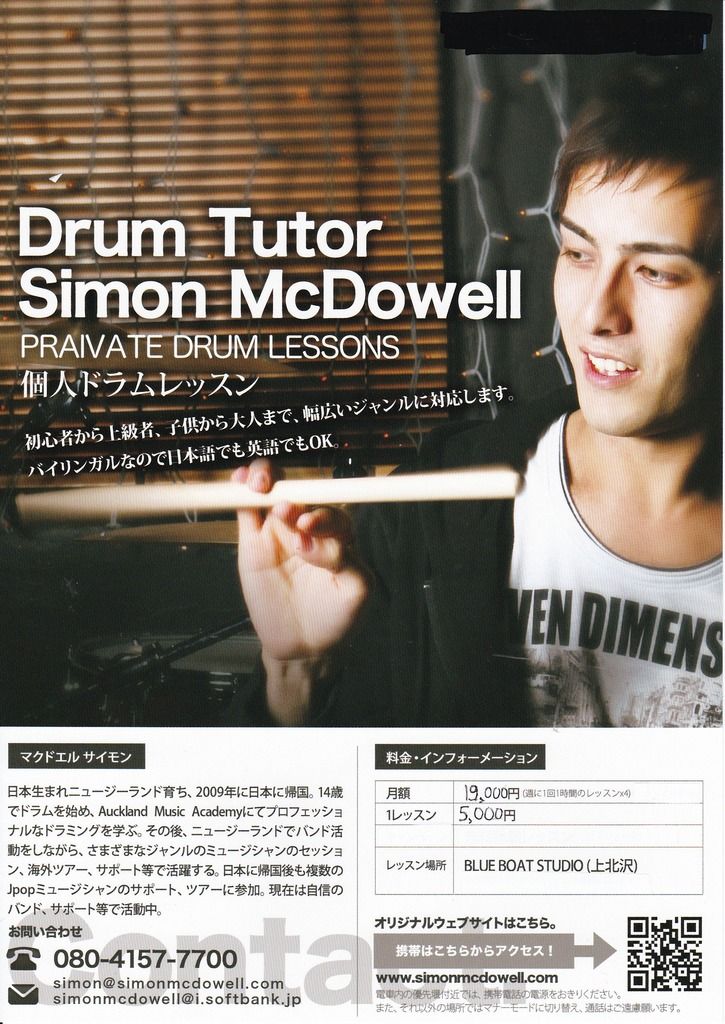 I can teach you all kinds of styles and exactly what would apply to your playing and correct any of your bad habits! Beginners are also very welcome.
I have had a ton of experience in the professional world of music and can get serious, ambitious drummers learning more rapidly to reach their goal in trying to make a living in music!
I teach at Blue Boat Studios in Kami-Kitazawa area which is located on the Keio New Line (12 minutes from Shinjuku).
I will teach you how to read drum music so that you can read all the exercises I will give you copies of.
I teach for 5000YEN an hour.
In Blue Boat Studios there are 2 drum kits setup (one for the tutor and another for the student) for a more smooth, rapid learning progress and most of all, more fun!
if you would like to apply for lessons please fill out the form below and click "check", then "submit" or phone directly to 080-4157-7700.
私は、今までにプロの音楽の世界で経験を積んできました。音楽活動をしながらドラム講師としても活動しています。趣味レベルで始めたい方から、真剣にプロを目指している方、子供から大人まで、どなたでも幅広いジャンルに対応します。
バイリンガルなのでミュージックもに英語にも興味がある方、これから海外で音楽の仕事をしたいと思っている方など英語でレッスンを希望される方にも対応します。
レッスンは、上北沢駅の近くのBlue Boat Studiosで、新宿駅から電車で12分です!
授業料は、1時間4100円(スタジオ代900円別途)、出張レッスンもいたします。(4100円+スタジオ代、交通費)
Blue Boat Studiosに2代ドラムありますので、(先生と生徒はドラムセット別々です!)わかりやすくて、楽しんで習えます!
下のスペースの中に名前、メールとメッセージを入れて「check」をクリックして、それで「submit」をクリックして下さい。それかこちらに電話して下さい。080-4157-7700

---